Pairings: My primary pairings are Adam/Tommy or Stiles/Derek, but if someone in HP wants to play, I'm happy with Harry/Snape, or Harry/any of the Malfoy men. I'm also good with Tommy/Brian, or Tommy/Sutan if the mood strikes.

One of my favorite kinks is edging. I'm also a fan of frottage, coming in pants, rimming and fingering, toys, size kink, fear of discovery situations, the list could get long, lol.

Prompts, hmmm. I like authors to go where their muse takes them, so nothing too specific. How about:
his furry little problem
hot and cold
as needs must
moonlight
again
I'm sorry
scavenger hunt
on the town
murmur
rhythm and blues
3am
struggle
secret(s)
lull and storm
chime

Stories can be funny, fluffy, angsty, hurt/comfort, PWP; whatever seems to fit. Hope that gives all you wonderful writers some ideas to go on :-)
So, several of you were asking what I would be interested in, if you were to write me fic (wheee!) :D I thought it'd be easiest to post ideas here, so:
Current Mood:

hopeful

Current Music:

Let's Dance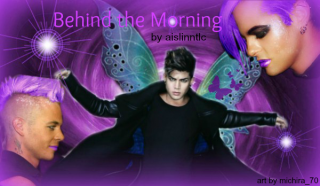 Title:
Behind the Morning
Artist:
michira-70
Author:
aislinntlc
Type:
AU, fantasy
Word Count:
~9,590
Rating:
NC-17
Characters/Pairings:
Adam/Sauli/Tommy, Lisa, Bridget, Isaac
Content/Warnings:
Winged fairies
Summary:
The last thing Tommy expected when Sauli dragged him over the Scottish countryside, in search of a fairy ring, was to find everything he'd been looking for his whole life.
Links to Art Master Posts:
LJ:
http://michira-70.livejournal.com/109704.html
DW:
http://michira-70.dreamwidth.org/75142.html
IJ:
http://michira-70.insanejournal.com/132753.html
Author's Notes:
Written for the Glam Reverse Big Bang. A sort of modern fairy tale inspired by the beautiful artwork of michira-70. I will be endlessly thankful to moodwriter for her pre-read, and especially to leela_cat for her invaluable beta work, which polished many rough edges. Any remaining errors are my own. Though the characters are based on gorgeous, fascinating men, they are of course entirely fictional.
(
Read more...
Collapse
)
Current Mood:

accomplished
ragingrainbow
post this meme earlier today and decided to join in. Most of the music I see tweeted on my feed is bandom, MCR, 1D, or Adam, all guys, so I decided to pick 20 songs I love that are sung by women. These are just 20 I came up with today, since there's so many other songs out there I love, including from many of these artists. Anyway, here they are in no particular order:
1.
Missy Higgins - The Special Two
Missy is my favorite singer/songwriter. There are probably 3 songs that she sings that I only like instead of love, but most of her work I adore. I could make a list of 20 just from her music, but I forced myself down to two. The videos I found both happen to be live - and she's great live - but the recorded versions of the songs are gorgeous too. The lyrics of this song are poignant, and the only drawback of this live vid is the missing harmonies
2.
Christina Perri - Jar of Hearts
I first heard this song on SYTYCD, and fell in love with it. The show's actually been a great place to discover music. This video gets extra points for including Kathryn and Allison, two of the best dancers from the show
3.
Eva Cassidy - Time after Time
This woman had a phenomenal voice, and sang every song she covered with such emotional range. I love so much of what she performed; this is just one of many out there. If you don't know her, check out other YTs of her performances. We lost her all too soon, and the world is diminished without her voice in it.
4.
Cyndi Lauper - True Colors
Since I included someone else singing one of Cyndi's songs, I thought it only right to include another one sung by her. Her voice is unique and she's had a number of songs I've loved over the years.
5.
Annie Lennox - Little Bird
Another artist I've loved for a lot of years. Annie has such a distinct and powerful voice. Someone made a really creative video to go along with this song
6.
Goldfrapp - Strict Machine
There's a lot of stuff that Adam recommends that's really not my taste, but he and I share a similar view in this area. The driving electronica is sexy as hell in a number of these songs(i.e. Ooh La La. Crystalline Green)
7.
Janelle Monae - Tightrope
Another kind of beat I love is the totally fun and funky type of beat in a song like this one. This girl is gorgeous with a nice voice, the dancing is mesmerizing and I love the horn section.
8.
P!nk - Glitter in the Air
And one more visually appealing video for a song I love to sing along to. This performance impressed the hell out of me. I don't know if they switched from live to recorded once she was spinning, but it doesn't seem as if they did, and i don't know how she did that! :D
9.
Brooke Fraser - Scarlet
This is likely an artist not familiar to many outside of NZ. A Kiwi friend of mine exposed me to her music, and although her focus on her faith isn't usually my thing, I do like her music. This one's ethereal
10.
Agnes Obel - Close Watch
This Danish artist is offbeat, haunting and minimalistic, using the barest instrumentation behind her vocals. There's something about her strange music that calls to me
11.
Sarah McLachlan - Angel
When I saw the movie
City of Angels,
I fell in love with its soundtrack. I've included two of the songs here; this one is so much fun to sing along to, as long as I don't have to do it while seeing sad puppies looking at me(animal rescue commercial)
12.
Alanis Moriessette - Uninvited
This is the second song from the movie, and the video is based on clips from it. I love the dramatic build to the song, and it's another one that's great to belt out along with the artist.
13.
Kimbra - Plain Gold Ring
And we're heading back down to my favorite land of NZ with this next artist. People have heard her voice on Gotye's current overplayed song, but I really love her jazzy style. There's a video for another song - Settle Down - that's well worth a watch. I love the way she builds the song as she goes here, with total immersion in the music
14.
Ingrid Michaelson - The Chain
This singer/songwriter is from my area of the world, and her music has been used on a number of TV shows, like Grey's Anatomy, which is where I think I discovered her(I love whoever picks their music, and what a cool job). This song is one of my favorites of hers because of the way the rounds layer over each other later in the song.
15.
Sarah Bareilles - Gravity
Another song that is strongly connected to the show SYTYCD. The routine that Mia Michaels choreographed to it is my all time favorite routine, and breaks my heart every time I watch it. The song is able to recall that for me whenever I listen to it
16.
Indigo Girls - Closer to Fine
I love this duo, and especially love how much fun it is to sing along to the songs, sometimes on the melody, but often taking the harmony. The harmonies of their songs, as well as their lyrics, are what draw me to a lot of their music.
17.
Fleetwood Mac - Landslide
This is one of my favorite groups out there, and this song fits my female performer theme. I have loved this song for many, many years - it's timeless and beautiful, and another one that is lovely to sing along to.
18.
Sade - Sweetest Taboo
This performer has the smoothest voice I think I've ever heard, and I absolutely love its buttery tone. This song has a wonderful beat and breezy feel; always makes me feel good
19.
Adele - Hometown Glory
OK, OK, I know Adele has been played to death on radio, but this song is not from her current album, rather from her debut album, 19. I loved her and this song long before a lot of the US knew she existed, and while I do also love(if can't listen anymore) 21, this one remains on my songs I love list.
20.
Missy Higgins - Sound of White
And full circle back to my favorite artist Missy Higgns. Once you get past the flat first line of this performance, it becomes the emotionally devastating song that brings me to tears more often than not. She pours her soul and her heart into her writing and her performing. She's got a new album out now, and has already added to the songs I could include in a 'songs I love" list.
You can hear more of Missy's songs here, including some from the new album:
http://soundcloud.com/missy-higgins
~v~
I saw
Current Mood:

accomplished

Current Music:

All of the above :)
1. What's your username and is there a story behind it?
2. Where are you from and where do you live now?
3. Besides Adam, who are some of your favorite musical artists?
4. Have you been in any other fandoms besides Adam? Which ones?
5. How long have you been an Adam fan, and how did you first hear about him?
6. Have you seen Adam in concert? Any particular favorite concert experience?
7. What's your favorite song off of For Your Entertainment and why?
8. What are you favorite genres of fanfic? (angst, fluff, porn, crack, AU, etc...)
9. Do you have an OTP? What is it, and why do you love it?
10. Are you a fan of any of Adam's many talented friends and colleagues ? If so, who?
11. What story do you wish someone would write?
12. What fanfic would you recommend to everyone? Tell us about your favorite stories!
13. Tell us about what you're hoping to see during the Trespassing album cycle.
14. And of course, the eternal debate: how do you like Adam's hair best? Up? Down? Shaved sides? Tinted tips? FACIAL HAIR? Feel free to link a picture in your post!
I've listened to a few of the voice memes that have been recorded, and am enjoying them so far, so I decided to jump in an do one too. Here's my rambly, meandering result:
Current Mood:

peaceful
Current Location:

sacred unreality

Current Mood:

contemplative

Current Music:

Videotape - Radiohead
moosatcows
, I've created a map of places I've been in the US:
visited 32 states (64%)
Create your own visited map of The United States
A couple are guesses - I may have been in other states, when I traveled across country from NY to San Francisco with my grandparents at age 6, but I was way too young to notice.
I started to do the map of the world, since I've been able to travel to a number of countries as an adult, but found it only equaled 4% of the world map, mostly Canada and 9 nations in Europe, so I didn't bother with the map. It may be something to aspire to fill though!
Taking a cue from
Current Music:

Jamie Cullums's Photograph